By Jacki Farrell
We are back to in-person events! After returning from a great event at the 2022 MMI Annual Conference in Nashville, I had the opportunity to attend an event closer to home, one of the premiere RIA events – the InvestmentNews RIA Summit. It was a great opportunity to gather with colleagues and discuss trends in the industry, learn from peers and speakers, and hear what's on the mind of RIAs. 
Here are some highlights of the 2-day conference.
Jeff Benjamin of InvestmentNews kicked-off the conference on Day 1 and we jumped right into panel sessions on TAMPS and fee-based annuities, and then a timely market update. 
When, Why and How to Successfully Use TAMPs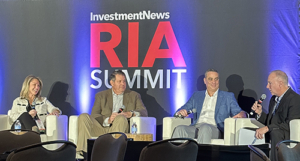 Steve Richardson (Richardson Financial) and David Wood (Gateway Financial Partners) made up the panel moderated by Anthony DiRito (AssetMark). 
The panel discussed how RIAs can use TAMPS to grow their practice  –  an increasing number of advisers are now turning to TAMPs for investment management, portfolio accounting and reporting to allow more time to focus on client advice. Outsourcing creates a repeatable process and delivers scale, so advisors can focus on adding value for their client. And, as David Woods noted, consolidation of firms makes it difficult for smaller RIAs to survive and thrive, and outsourcing will be key to growth. 
TAMPs deliver value beyond investment services, with technology and back-office and operational support. And, as investments become commoditized, advisors continue to move towards an experience business, where they need to strategically outsource to free up time to spend with their clients and deliver a holistic planning experience. 
Day 2 was a full day of sessions – ranging from discussions on technology, choosing your custodian, M&A trends, current tax environment, fees and more.  Here's a few highlights. 
Choosing Your Custodian
Derek Bruton (Gladstone Group), Gary Carrai (LPL Financial), Lillian Peros (Fidelity), and moderated by Jeff Benjamin (InvestmentNews)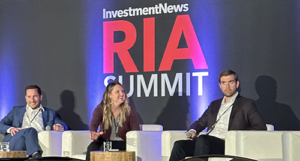 The panel identified key things to consider when choosing a custodian — the custodian must 'nail' the basics, understand your service and support model, stability and security really do matter, and what value-added services are provided for your firm. Every good custodian can provide the table stakes and do it well. It's important to understand what other support they can offer to help manage the complexities of running your firm. 
Fee-based Everything Else Panel
The panel included James Conner (CAIS), Morgan Ludovico (StoneCastle Cash Management), Joseph Cavatoni (World Gold Council) and Thomas Ruggie (Destiny Family Office)
The panel discussion focused on products and solutions to allow RIAs to deliver a full suite of investment options to their clients – gold,  alternative Investments (platform solutions allowing advisors to interact and transact easily at scale) and innovative cash management options (focused on flexible solutions for advisors to easily capture held away cash).  
The panel discussed technology options that deliver flexibility and make it "easy, easy, easy" to access and include alternative investments options in client portfolios. Highlighting tools and technology that give advisors the ability to do everything they've been doing in the broker dealer world with commissions in the RIA world with fees.
RIA Tech: Essential Tools for Building Your Practice 
Gregg Greenburg (InvestmentNews) moderated a panel discussing RIA tech that included John Milne (Black Diamond), Erin Hulse (Deviate Consulting) and Rob Sheehan (Addepar).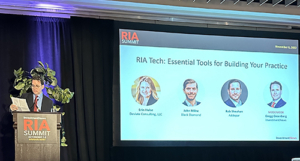 Gregg got things started by engaging the panel on their views about one-stop shopping for tech versus mixing and matching different applications – the panel seemed to have consensus on the value of bundles delivering ease of use, but that we have shifted towards mixing and matching or 'best of breed' approach. Other key takeaways were about the importance of an RIA having a long-term firm strategy to get the most out of the vendors they select, knowing the cornerstone tech components needed for your firm, and accessing training resources from your tech providers. 
Another comment that resonated with me was that if you choose the right tech vendors they will not stand still, but continue to enhance and improve their product(s). You will grow together. This is exactly what we strive to do at MyVest — we sweat the details and strive to enhance functionality to deliver more personalization, scale and tax optimization for our enterprise clients. 
It was a great event! I look forward to attending next year. Hope to see you there.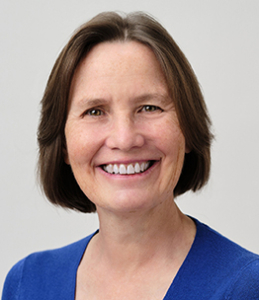 Jacki Farrell is Senior Product Marketing Manager at MyVest. She has spent over 20 years in financial services in a variety of marketing and communications roles.